Inspired by his experience for performance and race cars, Horacio Pagani and his Team of highly qualified engineers have achieved the ambitious project of developing the Zonda C12.
From its V12 AMG Mercedes-Benz engine to its carbon-fiber chassis, the Zonda, inspired by the legendary Sauber Mercedes Group C "Silver Arrow" is today a reality.
A choice of two version is offered : the Zonda C12 equipped with a 6-liter V12, 450 HP engine, and the Zonda C12S with a seven-liter V12, 550 HP engine. Raced design, low weight (1250 kg), the Zonda is built with the same spirit as the Mc Laren F1road car.

Welcome to the world of Pagani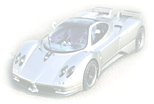 Horacio Pagani is the founder of Modena-Design, a high-tech company, specialized in advanced technological products. The composite division has been involved with the most prestigious constructors.


Pagani was a close friend of Juan Manuel Fangio, the legendary five-time formula One world champion, with whom he shared the first draft of the extraordinary Zonda project.

One obligation, The car needs to be powered by a Mercedes engine.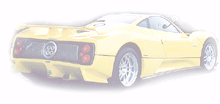 PAGANI ZONDA CHASSIS NUMBER
01 - Prorotype crash test
02 - Silver / int. red - Prototype test
03 - Yellow/ int. beige
04 - Prototype spyder crash test
05 - Silver / int. grey - S
06 - Black carbone / int. beige Geneva show 2000
07 - Silver / blue RHD
08 - Silver / int. blue - S
09 - Silver / special int. - S
10 - Silver / int. blue - S
11 - Silver / int. blue - S